Mario Ayala
was born in 1991 in Los Angeles, California. Now based in Los Angeles, Ayala graduated from The San Francisco Art Institute in 2014 where he received the Yale Norfolk fellowship in 2012. He was a participant at the Skowhegan School of Painting and Sculpture in 2014. Ayala recently had his first solo show,
Seasoned And Embarrassed Like A Wet Dog
at SADE, Los Angeles. Selected group exhibitions include
Sun Sprawl
at Club Pro Los Angeles;
Welcome To The Left Coast
at The Luggage Store Gallery;
Summer Group Show
at Hashimoto Contemporary, San Francisco;
The House Of Special Purpose
at 99¢ Plus Gallery, Brooklyn;
Something Completely Different
at City Limits, Oakland;
5 Year Anniversary
at Ever Gold Gallery, San Francisco;
Locals Only
at RVSF, San Francisco; and
Give + Take
at Adobe Books, San Francisco.
Please inquire for available works: info@nullevergoldprojects.com
Exhibitions with Ever Gold [Projects]:
Mario Ayala
Pen Pal
April 13 – May 13, 2017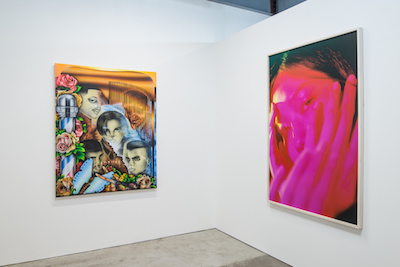 Mario Ayala, Petra Collins, Petra Cortright, Oscar Murillo, Kour Pour, Sterling Ruby, Tom Sachs, Kazuo Shiraga, and Takis
Grinding
September 9 – October 21, 2017
Selected Press:
Flaunt Magazine: Mario Ayala
San Francisco Chronicle: Ayala's 'Pen Pal' exhibition has themes of prison, family
KQED: Cy and David's Picks: Tenting in London with Occupy, Prison Pen Pals, and Broken Hearts in Paris
Creators Project: Airbrushed Paintings Portray the Isolation and Heartbreak of Mass Incarceration
MARIO AYALA
Born 1991, Los Angeles, CA
Lives and works in Los Angeles, CA

Education
2014
BFA (Painting), San Francisco Art Institute (San Francisco, CA)
Solo Exhibitions
2017
Pen Pal at Ever Gold [Projects] (San Francisco, CA)
Seasoned And Embarrassed, Like A Wet Dog at SADE (Los Angeles, CA)
Two Person Exhibitions
2018
Sun Sprawl, with Greg Ito at Club Pro Los Angeles (Los Angeles, CA)
Selected Group Exhibitions
2017
Grinding at Ever Gold [Projects] (San Francisco, CA)
2016
Welcome To The Left Coast at The Luggage Store Gallery (San Francisco, CA)
Summer Group Show at Hashimoto Contemporary (San Francisco, CA)
The House Of Special Purpose at 99¢ Plus Gallery (Brooklyn, NY)
2014
Something Completely Different at City Limits (Oakland, CA)
5 Year Anniversary at Ever Gold Gallery (San Francisco, CA)
Locals Only at RVSF (San Francisco, CA)
2013
Give + Take at Adobe Books (San Francisco, CA)
Residencies and Awards
2014
Skowhegan School of Painting and Sculpture