Since the early 1970's
Paul Kos
's work has challenged conventions of art media and subject matter. For a global audience, he staged new possibilities for artistic treatments of time, space and cultural systems. Kos, one of the founders of the Bay Area conceptual movement, has exhibited internationally and has work represented in major museum collections including New York's MoMA, the San Diego Museum of Contemporary Art, SFMoMA, and the Stedelijk Museum, Amsterdam.
Please inquire for available works: info@nullevergoldprojects.com
Paul Kos on NY Pool Hustle:
"In San Francisco for about six months, I religiously practiced pool. NY Pool Hustle in 1972 was a live performance at the Reese Palley Gallery in NYC.
In New York, I went to the billiard hall where the film, The Hustler, was shot with Paul Newman and Jackie Gleason as Fast Eddy and Minnesota Fats. At the reception desk, I asked who was the best player there at the time, the receptionist gave me an evil stare but looked at a fellow in a white suit sitting near a pool table. I went over to him, and said, "There is a Rolls Royce waiting downstairs and a pool table in a gallery and if you would play me, the gallery would pay for my losses." He went to a locker, took out a small case with a three-piece cue and we went off to the gallery. He commented that his cue cost more than the table. This man in a white suit, looking like Thomas Wolfe, proceeded to beat me game after game, sometimes running the table, not giving me even one shot. He kept uttering that he could have been a psychiatrist given the time it took to play so well."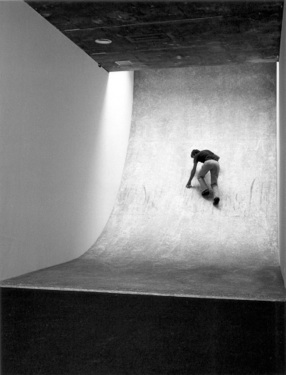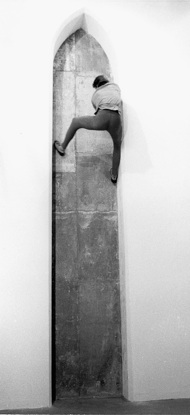 PAUL KOS
Born 1942, Rock Springs, WY
Lives and works in San Francisco, CA

Education
1967
MFA, San Francisco Art Institute (San Francisco, CA)
1965
BFA, San Francisco Art Institute (San Francisco, CA)
1961-62
Georgetown University (Washington, D.C.)

Selected Solo Exhibitions
2016
Equilibrium: A Paul Kos Survery at di Rosa (Napa, CA)
Symmetry at Anglim Gilbert Gallery (San Francisco, CA)
2012
Allegories and Metaphors (1968-2012) at Vallois Galerie (Paris, France)
Paul Kos: Allegories & Metaphors at Nyehaus (New York, NY)
2011
Selected Works: 1969-2011 at Gallery Paule Anglim (San Francisco, CA)
2009
Allegories and Metaphors at the Lamar Dodd School of Art at UGA (Athens, GA)
MOCA's First Thirty Years at Museum of Contemporary Art (Los Angeles, CA)
Conceptual Art Form California at Neuer Berliner Kunstverein (Berlin, Germany)
2008
Selected Works at Esso Gallery (New York, NY)
This Is Not a Void at Galeria Luisa Strina (Sao Paulo, Brazil)
2007
from_&_to at kunst Merano arte (Merano, Italy)
West of the Great Divide at Gallery Paule Anglim (San Francisco, CA)
Pioneers at CCA Wattis (San Francisco, CA)
2006
Evidences or This Object of Desire at SITU fabienne Leclerc (Paris, France)
Work Zones at San Francisco Art Institute (San Francisco, CA)
Three Cities: Berlin at Anna-Catharina Gebbers Bibliothekswohnung (Berlin, Germany)
2005
Marking Time at LACE (Los Angeles, CA)
2003
Everything Matters: Paul Kos, A Retrospective at Berkeley Art Museum, University of California; Grey Art Gallery, New York University; San Diego Museum of Contemporary Art; Contemporary Art Center, Cincinnati
Paul Kos at Grey Art Gallery NYU (New York, NY)
2002
Beyond Preconceptions at Berkeley Art Museum (Berkeley, CA)
2001
Paul Kos / Nam June Paik at San Francisco Museum of Modern Art (San Francisco, CA)
1998
Sculptural Allegories at Gallery Paule Anglim (San Francisco, CA)
1995
Jernigan Wicker Fine Arts (San Francisco, CA)
Gallery Paule Anglim (San Francisco, CA)
1994
Paul Kos at the Wiegand Gallery at College of Notre Dame (Belmont, CA)
1992
Paul Kos: Sculpture at Gallery Paule Anglim (San Francisco, CA)
J.B. Speed Museum, Louisville, Kentucky (travels)
Dorothy Goldeen Gallery (Santa Monica, CA)
1991
Tintinnabulations at University Art Gallery, San Diego State University (San Diego, CA)
1990
Paul Kos: Ber Lin at Laguna Art Museum, Satellite Gallery at South Coast Plaza (Costa Mesa, CA)
Dorothy Goldeen Gallery (Santa Monica, CA)
1988
Iannetti Lanzone Gallery (San Francisco, CA)
University Art Gallery, California State University, Chico
1987
San Francisco Museum of Modern Art (San Francisco, CA)
Walker Art Center (Minneapolis, MN)
1986
New Langton Arts (San Francisco, CA)
Capp Street Project (San Francisco, CA)
1982
University of Nevada (Reno, NV)
1980 MATRIX, University Art Museum, University of California, Berkeley
Site, Inc., 585 Mission Street (San Francisco, CA)
1979
University Art Museum, University of California, Berkeley
1978
Video Free America (San Francisco, CA)
Everson Museum (Syracuse, NY)
1977
Long Beach Museum of Art, Long Beach, CA
1976
Leo Castelli Gallery (New York, NY)
1975
Leo Castelli Gallery (New York, NY)
1974
Howard Fried, Paul Kos at San Jose University Art Gallery (San Jose, CA)
M.H. de Young Museum (San Francisco, CA)
1973
Gutierrez-Solana, Glassman, Kos (three one-man exhibitions) at La Jolla Museum (La Jolla, CA)
1972
Reese Palley Gallery (New York, NY)
1971
Fish, Fox, Kos at de Saisset Art Gallery and Museum (Santa Clara, CA)
Reese Palley Gallery (San Francisco, CA)
1969
Participationkinetics at Richmond Art Center (Richmond, CA)
Freeze-Drived Xmas at de Saisset Art Gallery and Museum, Santa Clara, CA
Selected Group Exhibitions:
2016
Zero c/o FuturDome (Milan, Italy)
2015
Against Automatism at Fused Space with Jessica Silverman Gallery (San Francisco, CA)
Retrospective at Gallery Paule Anglim (San Francisco, CA)
2014
Landscape: the virtual, the actual, the possible? at Yerba Buena Center for the Arts (San Francisco, CA)
Karla's Living Room at The Battery (San Francisco, CA)
Summer in Black and White at Gallery Paule Anglim (San Francisco, CA)
2013
California Landscape Into Abstraction at Orange County Museum of Art (Newport Beach, CA)
All Good Things at SOMARTS (San Francisco, CA)
Solid Concept VI at Gallery Paule Anglim (San Francisco, CA)
The Long Conversation at Southern Exposure (San Francisco, CA)
Mono No Aware at Linden Centre for Contemporary Arts (St. Kilda, Australia)
The Lunder Collection at Colby College Museum of Art (Waterville, MA)
EISKELLER UND HIMMELSLÖ: Ortsbezogene Interventionen, Rekonstruktionen und Erkundungen in Schleswig-Holstein 2012 – 2013 (Schleswig-Holstein, Germany)
2012
Happy Birthday: a celebration of chance and listening at the Philip Feldman Gallery at Pacific Northwest College of Art (Portland, OR)
CANY (California/New York) at Nora Fisch Arte Contemporáneo (Buenos Aires, Argentina)
Temporary Structures at San Francisco Art Institute (San Francisco, CA)
SOUND, IMAGE, OBJECT: The Intersection of Art and Music at the University Art Gallery at Sonoma State University (Sonoma, CA)
[Invisible] Relic at Park Life Gallery (San Francisco, CA)
State of Mind: New California Art Circa 1970 at Berkeley Art Museum (Berkeley, CA)
Do Not Destroy: Trees, Art and Jewish Thought at Contemporary Jewish Museum (San Francisco, CA)
2011
State of Mind: New California Art Circa 1970 at Orange County Museum of Art (Newport Beach, CA)
Under the Big Black Sun: California Art 1974 – 1981 at The Museum of Contemporary Art (Los Angeles, CA) and The Geffen Contemporary at MOCA (Los Angeles, CA)
Spread – California Conceptualism Then and Now at SOMArts (San Francisco, CA)
2010
Silence, Exile & Cunning at Sonoma Valley Museum of Art (Sonoma, CA)
Radical Light: Alternative Film and Video in the San Francisco Bay Area, 1945 – 2000 at Berkeley Art Museum (Berkeley, CA)
2009
The Third Mind: American Artists Contemplate Asia, 1860 to 1969 at Guggenheim Museum (New York, NY)
MOCA's First Thirty Years at MOCA Museum of Contemporary Art (Los Angeles, CA)
Conceptual Art from California, Paul Kos and Tony Labat at Arge Kunst (Bolzano, Italy)
2008
This Is Not A Void at Galeria Luisa Strina (Sao Paolo, Brazil)
Eureka at San Jose Institute of Contemporary Art (San Jose, CA)
Conceptual Art From California at Neuer Berliner Kunstverein n.b.k. (Berlin, Germany)
Looking For Mushrooms at Museum Ludwig (Koln, Germany)
California Video, Getty Museum (Los Angeles, CA)
15th Anniversary Exhibition, Museum of Contemporary religious Art (St. Louis, MO)
Neighborhood Secrets (Stavanger, Norway)
Matrix, 30th Birthday Bash at Berkekey Art Museum (Berkeley, CA)
Projected Image at Sonoma State University (Sonoma, CA)
2007
A Principle of Immortality, Video from 1970 to the present at Macy Art Gallery, Teachers College, Columbia University (New York, NY)
Art Since the 1960s: California Experiments at Orange County Museum of Art (Newport Beach, CA)
from_&_to at kunst Merano arte (Merano, Italy)
Pioneers at CCA Wattis Institute (San Francisco, CA)
On Ice at Williams Center Art Gallery, Lafayette College (Easton, PA)
Subversive Moves at Sun Valley Center for the Arts (Ketchum, ID)
2006
Evidences or This Object of Desire at In Situ / Fabienne Leclerc (Paris, France)
The Three Cities – Berlin: The Apartment at Anna-Catharina Gebbers (Berlin, Germany)
Work Zones: Three Decades of Contemporary Art from SFAI at San Francisco Art Institute (San Francisco, CA)
2005
Soft Openings at The Katzen American University Museum, Washington, D.C.
Solid Concept V at Gallery Paule Anglim (San Francisco, CA)
2003
Sold Concept IV at Gallery Paule Anglim (San Francisco, CA)
2001
Labyrinth Of Pleasure at Museum of Contemporary Art, Taipei, Taiwan
Double Feature: Paul Kos and Nam June Paik at San Francisco Museum of Modern Art (San Francisco, CA)
2000
Open House at Art on Site 1 (San Francisco, CA)
1:1 at Refusalon (San Francisco, CA)
1999
Line at Lance Fung Gallery (New York, NY)
1998
PFormative Acts at San Francisco Art Institute (San Francisco, CA)
Selections from the Weisman Collection at Frederick Weisman Museum of Art, Center for the Arts, Pepperdine University (Malibu, CA)
1997
Video Group Show at Museum of Modern Art (New York, NY)
The Art Orchestra: A Sculptors' Ensemble at The Fine Arts Museums of San Francisco (San Francisco, CA)
1996
Blurring the Boundaries: Installation Art 1969 – 1996 at Museum of Contemporary Art, San Diego, CA
Generations at Richmond Art Center (Richmond, CA)
Austria SFAI 125th Anniversary Tribute Show at Gallery Paule Anglim (San Francisco, CA)
Natural Histories< at Institute of Contemporary Art (San Jose, CA) 1995 Facing Eden at M.H. de Young Museum (San Francisco, CA)
1994
Solid Concept Three at Gallery Paule Anglim (San Francisco, CA)
1993
In Out of the Cold at Yerba Buena Center for the Arts (San Francisco, CA)
1992
California Art at Aspen Art Museum (Aspen, CO)
John Cage Memorial Exhibition at Jernigan/Wicker (San Francisco, CA)
Unter Null at Woh Museum, Barengasse (Zurich, Germany)
1991
After the Apocalypse: A Different Humanism at SECCA (Winston-Salem, NC)
Public Collections:
Guggenheim Museum (New York, NY)
Kadist Foundation (Paris, France)
Henry Art Gallery, University of Washington (Seattle, WA)
La Jolla Museum of Contemporary Art (La Jolla, CA)
Modern Art Museum of Fort Worth (Fort Worth, TX)
Long Beach Art Museum (Long Beach, CA)
Museum of Conceptual Art (San Francisco, CA)
Wallraff-Richartz Museum (Cologne, Germany)
Institute of Contemporary Art (Philadelphia, PA)
de Saisset Art Gallery and Museum (Santa Clara, CA)
San Francisco Museum of Modern Art (San Francisco, CA)
Everson Museum of Art (Syracuse, NY)
Museum of Modern Art (New York, NY)
Stedelijk Museum (Amsterdam, Holland)
Nora Eccles Harrison Museum of Art (Logan, UT)
Grants and Awards:
2005 – 2007
Eureka Fellowship Program for the Visual Arts
1999 – 2000
Flintridge Foundation Fellowship
1997
National Endowment for the Arts and FONCA (Fondacion y Organisacion National de Culutra y Artes) Residency in Mexico
1993
National Endowment Fellowship
1990
John Simon Guggenheim Memorial Fellowship
1989
Award in the Visual Arts (AVA)
1987
Rockefeller Foundation Fellowship
Engelhard Award, Boston, Massachusetts
Western States Arts Fellowship
"Open Channels," Long Beach Museum of Art
1986
National Endowment Media Arts Grant (in conjunction with the Walker Art Center)
Louis Comfort Tiffany Foundation Fellowship
1986
Capp Street Project, Residency
1983
Western States Arts Fellowship
1982
National Endowment Fellowship
1976
National Endowment Fellowship
1974
National Endowment Fellowship