Art Fair
Ever Gold [Projects] is pleased to present a two person booth with Petra Cortright and Petra Collins, at the 2017 ALAC (Art Los Angeles Contemporary) at the Barker Hanger in Santa Monica.
All inquires please direct to info@nullevergoldprojects.com
---
Press
Gallery artists Kour Pour and Petra Collins both on the Forbes 2017, 30 under 30 lists for Art and Culture. Kour in Europe, Petra in the US.
---
Press

Ever Gold [Projects] in the NY Times Magazine
Within Minnesota Street Project's first building and central hub located on its namesake avenue are about a dozen other galleries, including the last gallery to sign in that space, Ever Gold Projects — run by a San Francisco native, Andrew McClintock, who grew up riding his bike in the Dogpatch. When Ever Gold's previous lease became unaffordable in the Tenderloin, just under a year ago, McClintock relocated. "Conceptually, there is much more space out in the Dogpatch — space to think and breathe in this ever-encroaching city," he says. "I saw my sales more than double last year, and our shows are being seen by thousands of people." This Saturday, McClintock will open a show that puts Kazuo Shiraga, a master of the Gutai group, and the current market darling Kour Pour in dialogue. 1275 Minnesota St., Suite 105, evergoldprojects.com.

---
Press
Mark Flood's solo exhibition reviewed by the SF Weekly
---
Press
Mark Flood's solo exhibition, "Paintings From The War For Social Justice", reviewed by the Creators Project.
---
Press
Petra Collins interviewed by Artnet: Why Everyone Is Talking About Millennial Artist Petra Collins
---
Press
Petra Cortright in the New York Times feature on Rhizome's work saving Internet based video art.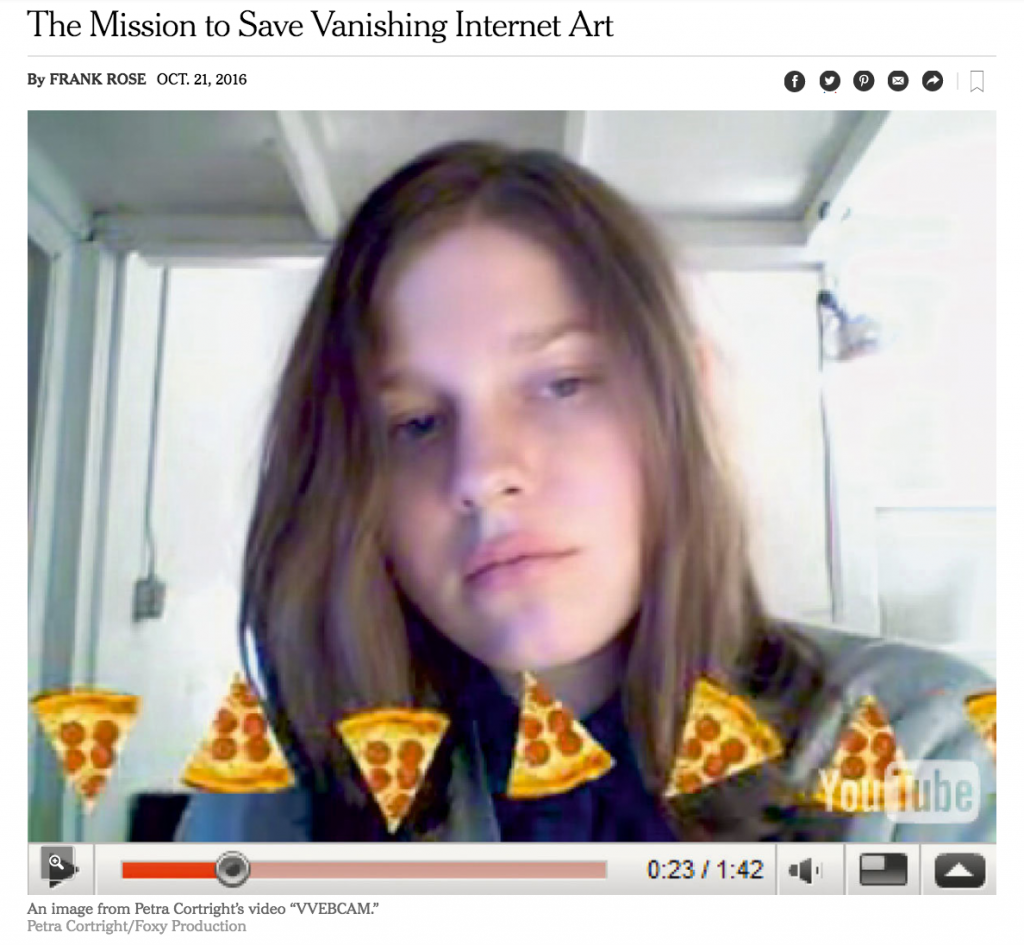 ---
Exhibition
Serge Attukwei Clottey solo exhibition at GNYP Gallery, Berlin. October 22nd – December 3rd, 2016
---
Press
Petra Collins feature in an October issue of the New Yorker magazine.
---
Exhibition
Petra Cortright solo exhibition at Carl Kostyal, London.
---
Exhibition
Tom Sachs solo exhibition at YBCA, San Francisco.