Marc Horowitz (b. 1976) lives and works in Los Angeles. His aesthetic practice spans photography, sculpture, painting, installation, video, and performance. A Creative Time Project Grant Awardee, Horowitz has taught at the University of Southern California, the University of California, Santa Barbara, and Otis College, and lectured at the California Institute of the Arts (CalArts), the Hammer Museum, Stanford University, and Yale. Recent exhibitions include: Jonathan Hopson, Houston; Johannes Vogt, New York; Bank Gallery, Shanghai; Ever Gold [Projects], San Francisco; COMA Gallery in Sydney, Australia; Mannerheim Gallery, Paris; China Art Objects, Los Angeles; and the Depart Foundation, Los Angeles.

Please inquire for available works: info@nullevergoldprojects.com
Exhibitions with Ever Gold [Projects]: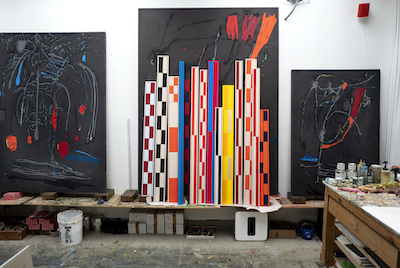 Marc Horowitz
The Qualitative Validation Principle
November 9 – December 21, 2019
Reception: November 9, 5-8 pm
Andy Warhol, Mark Flood, Petra Cortright, Kour Pour, Adam Parker Smith, Ken Taylor, Samuel Stabler, Zachary Armstrong, William Buchina, Marc Horowitz, Sandy Kim, Jonathan Edelhuber, Guy Overfelt, Drew Bennett, Christine Wang, Casey Gray, Saif Azzuz, Facundo Argañaraz, Mieke Marple, Jeffrey Alan Scudder, Brion Nuda Rosch, and Oliver Hawk Holden
[On Approval] Beta Launch
July 13 – August 24, 2019
Zachary Armstrong, Korakrit Arunanondchai, Mario Ayala, Sadie Barnette, Chris Burden, Frédéric Bruly Bouabré, Serge Attukwei Clottey, Petra Cortright, Mark Flood, Kate Groobey, Brian Harte, Marc Horowitz, Paul Kos, Jasmine Little, Mieke Marple, Shaina McCoy, Barry McGee, MOCA (Museum of Conceptual Art), Oscar Murillo, Guy Overfelt, Cameron Platter, Kour Pour, Sterling Ruby, Ed Ruscha, Tom Sachs, Adam Parker Smith, Takis, and Christine Wang
Gold Standard: Ten Year Anniversary Exhibition
January 12 – February 24, 2019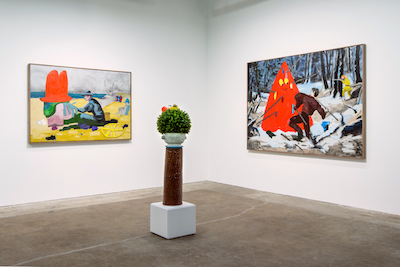 CALL 1-833-MAR-CIVE TO HEAR MARC HOROWITZ TALK ABOUT HIS WORK.
Enter reference number 727 for information about the 2017 exhibition at Ever Gold [Projects].
Visit 1833MARCIVE.com for a full list of projects and their corresponding reference numbers.
MARC HOROWITZ
Born 1976, Westerville, OH
Lives and works in Los Angeles, CA

Education
2012
MFA (Studio Art), University of Southern California, Roski School of Fine Arts (Los Angeles, CA)
2001
MFA (New Genres), San Francisco Art Institute (San Francisco, CA)
1998
BS (Marketing), Indiana University, Kelley School of Business (Bloomington, IN)
Solo Exhibitions
2019
The Qualitative Validation Principle at Ever Gold [Projects] (San Francisco, CA)
If it's not mine, it's mine at Jonathan Hopson (Houston, TX)
Nothing on the Other Side of the Slash at Johannes Vogt (New York, NY)
2017
"'You can't do that to them,' the older, wiser Architect said." at Ever Gold [Projects] (San Francisco, CA)
A Discord in our Material and Spiritual Harmony at Johannes Vogt (New York, NY)
Thank you. That was quite illuminating at COMA Gallery (Sydney, Australia)
2016
THE HALL. STUDIO at Mannerheim Gallery (Paris, France)
"Dawn of the Zone" at China Art Objects (Los Angeles, CA)
(complaining): It's surprisingly beautiful here at Johannes Vogt (New York, NY)
2015
INTERIOR, DAY (A DOOR OPENS) at Depart Foundation (Los Angeles, CA)
2013
Moving at Aran Cravey Gallery (Los Angeles, CA)
2011
The Advice of Strangers, funded by Creative Time and curated by Nato Thompson (web-based)
2008
The Me & You Show at The Hayward Gallery (London, England)
2007
The Center for Improved Living at Galerie Analix Forever (Geneva, Switzerland)
More Better at AMT Gallery (Lake Como, Italy)
TCFIL at Galerie Nuke (Paris, France)
2004
60 Second Symphonies atYerba Buena Center for the Arts (San Francisco, CA)
The Center for Innovation at Buzz Gallery (Oakland, CA)
Sliv & Dulet Present: One on One – Baseline at The Lab (San Francisco, CA)
2003
Sliv & Dulet Present: The Summer Line 2003 at New Langton Arts (San Francisco, CA)
Selected Group Exhibitions and Performances
2019
[On Approval] Beta Launch at Ever Gold [Projects] (San Francisco, CA)
Gold Standard: Ten Year Anniversary Exhibition at Ever Gold [Projects] (San Francisco, CA)
2018
Petra Cortright & Marc Horowitz at BANK (Shanghai, China)
2017
DUSK TO DUST, curated by John Knuth at Mt. San Jacinto College Art Gallery (San Jacinto, CA)
2016
The Human Condition, curated by John Wolf at The Los Angeles Metropolitan Medical Center (Los Angeles, CA)
2015
Turing's Apple, curated by Tony Oursler at Redling Fine Art (Los Angeles, CA)
Economic Humaine, curated by Paul Ardenne & Barbara Polla at Espace d'art contemporian HEC (Paris, France)
Wonderwheel, curated by CURA at Depart Foundation (Miami, FL)
2014
Too Soon, curated by Santi Vernetti at Perry Rubenstein Gallery (Los Angeles, CA)
Raster Raster, curated by Marisa Olson at Aran Cravey Gallery (Los Angeles, CA)
The Undulation of Something Faintly Familiar, curated by Jen DeNike & Rita de Alencar Pinto at Anat Ebgi Gallery (Los Angeles, CA)
Ensemble, curated by Paul Ardenne at Defacto Gallery (Paris, France)
2013
They all came down from the mountain at Monster Truck Gallery (Dublin, Ireland)
La Tyrannie des Objets at Galerie des Galerie (Paris, France)
They all came down from the mountain at Wexford Arts Centre (Wexford, Ireland)
2012
Curatorial Exchange, curated by Micol Hebron at University of California, Irvine (Irvine, CA)
2011
These Things Happen at University of Southern California, c/o Roski School of Fine Arts (Los Angeles, CA)
Alrededor es Imposible, curated by Lorenzo Sandoval, La Casa Encendida (Madrid, Spain)
2010
Somewhere Else, curated Paul Ardenne at Espace Culturel Louis Vuitton (Paris, France)
talkshow247.com at ARoS Museum (Aarhus, Denmark)
The Future Is Not What It Used To Be, curated by Magda Swanson, Postmasters Gallery (New York, NY)
2009
The World is a Place of Infinite Possibilities, c/o Galerie Analixn Forever (Miami, FL)
Conflux Festival, organized by Glowlab at New York University (New York, NY)
Golden America Loves You, curated by John Knuth at Circus Gallery (Los Angeles, CA)
Working Men, curated by Barbara Polla and Paul Ardenne at Galerie Analix Forever (Geneva, Switzerland)
2008
Plug, curated by Art Design Office at Sister Gallery (Los Angeles, CA)
Video Window, curated by Harrell Fletcher at Elizabeth Leach Gallery, (Portland, OR)
Mr. Nice Guy, at FIAC with Galerie Analix Forever (Paris, France)
Working Men, curated by Barbara Polla & Paul Ardenne at Galerie Analix Forever (Geneva, Switzerland)
Bay Area Dance Videos, curated by Heike Liss and Nomi Talisman at Fluctuating Images (San Francisco, CA)
2007
Mr. Nice Guy at Galerie Analix Forever (Paris, France)
Commercial at Bologna Fiere with Galerie Analix Forever (Bologna, Italy)
The Collective Foundation, curated by Joseph del Pesco at Yerba Buena Center for the Arts (San Francisco, CA)
The Center for Improved Living: Life Coaching at Sister Gallery (Los Angeles, CA)
I Invented the Internet at The Lab (San Francisco, CA)
ShopDropping, curated by Marisa Jahn at The New Gallery (Calgary, Canada)
2006
Project Placement, curated by Joseph Del Pesco at Galerie Analix Forever (Geneva, Switzerland)
The Center for Improved Living at ArtLA with Stephen Cohen Gallery (Los Angeles, CA)
2005
M.O.R.E., curated by Mitch Cope at Detroit Artist Market (Detroit, MI)
ShopDropping at Pond Gallery (San Francisco, CA)
Detours at Huntington Beach Art Center (Huntington Beach, CA)
2004
Sculpture Party at Your House at New Langton Arts (San Francisco, CA)
Mobile Coffee Unit No. 2 at Conflux Festival with Glowlab Gallery (New York, NY)
UBISAC 1.0 at Flux Factory (New York, NY)
Fritz Haeg's Special Delivery at California College of the Arts (San Francisco, CA)
Untethered at Southern Exposure (San Francisco, CA)