Pat McCarthy
is an artist living and working in New York. McCarthy has had solo exhibitions at Agnès B., New York (2015); Ever Gold Gallery, San Francisco (2015); Muddguts, Brooklyn (2014); and Delire Gallery, Brussels (2013). Group exhibitions include
Satan Ceramics
at Ever Gold Gallery.
Field Effects
, le Cap
at Rencontres d'Arles Festival, Arles (2015);
Thanks for Nothing
at Muddguts, Brooklyn (2014);
The Smiley Face Show
, with Salon 94 at Frieze London (2014);
Satan Ceramics
at Salon 94, New York (2014);
It's an Invasion
at the National Arts Club, New York;
la Dernière Vague,
la Friche de la Belle de Mai, Marseille (2013); and
In Praise of Chance and Failure
, Family Business, New York (2013). Honors include Werner Herzog's Rogue Film School (2012) and Tom Sachs Space Program (2012, 2007).
Please inquire for available works: info@nullevergoldprojects.com
Exhibitions with Ever Gold [Projects]: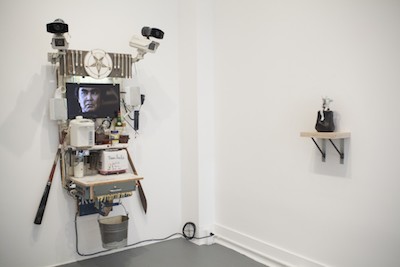 Tom Sachs, JJ Peet, Mary Frey, and Pat McCarthy
Satan Ceramics
January 23 – March 26, 2016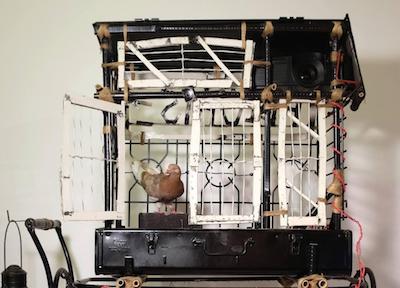 Pat McCarthy
Shelters
September 10, 2015 – October 17, 2015
Interview with Pat McCarthy by Austin McManus
PAT MCCARTHY
Born 1987, Danbury, NY
Lives and works in Brooklyn, NY
Solo Exhibitions
2019
NikNak's City Cart at Entrance (New York, NY)
2018
Surfin Bird Odyssey at Boo-Hooray (Montauk, NY)
2017
Asphalt Paper at Practice Gallery (New York, NY)
Pat's Pigeon Brunch at Boo-Hooray (Montauk, NY)
2015
Slabs at Agnès B. (New York, NY)
Shelters at Ever Gold Gallery (San Francisco, CA)
2014
Pat's Pigeon Club at Muddguts (Brooklyn, NY)
2013
Pat McCarthy at Delire Gallery (Brussels, Belgium)
Selected Group Exhibitions
2019
Satan Ceramics with Galería Mascota at ZONA MACO (Mexico City)
2018
Swamp Pavilion, Lithuanian Pavilion at Venice Biennale of Architecture (Venice, Italy)
A History of Zines at MoMA PS1 (New York, NY)
2017
Making Public Domain at Middelheim Sculpture Museum (Antwerp, Belgium)
Eden at Aperture Foundation (New York, NY)
2016
Avec le vent (Marseille, France)
Satan Ceramics at Ever Gold Gallery (San Francisco, CA)
2015
Field Effects at Rencontres d'Arles Festival (Arles, France)
2014
Thanks for Nothing at Muddguts (Brooklyn, NY)
The Smiley Face Show with Salon 94 at Frieze London (London, England)
Satan Ceramics at Salon 94 (New York, NY)
It's an Invasion at the National Arts Club (New York, NY)
2013
la Dernière Vague at la Friche de la Belle de Mai (Marseille, France)
In Praise of Chance and Failure at Family Business (New York, NY)
Collections
The Museum of Modern Art (MoMA)
Fonds Régional d'Art Contemporain
Museo Jumex
Honors
2016
Eden, with Sylvain Couzinet-Jacques/Hermes Foundation (Eden, NC)
Tom Sachs NASA Space Program, Europa Mission (San Francisco, CA)
le Busserine, Logerim Foundation/FRAC PACA (Marseille, France)
2012
Werner Herzog's Rogue Film School
Tom Sachs Space Program
2007
Tom Sachs Space Program