Petra Collins
(b. 1992, Toronto, Canada) is an artist and curator living in New York. Shooting since the age of 15, her images are fueled by self-discovery and contemporary femininity which explore the complex intersection of life as a young woman online and off. Collins's images offer an unflinching honesty, exploring the privacies and publicities of growing up as a woman at a moment when female bodies are ubiquitously hyper-mediated by Photoshop and social media. Collins has also curated a handful of shows:
Gynolandscape
and
PussyPat (
New York, NY);
Strange Magic (
Los Angeles);
Literally Bye
at Art Basel Miami Beach; and
Comforter
at SFAQ [Project] Space (San Francisco). She has also given lectures at educational and art institutions such as York University and The Art Gallery of Ontario. Her work has been featured in publications including
I.D.
,
Dazed & Confused
,
NY Magazine
,
The New York Times
,
Teen Vogue
,
L'Uomo Vogue
,
Vogue ME China
,
Elle
,
Glamour
,
Jalouse
,
Vanity Fair
,
Purple
,
Interview
, and
Vice
. In 2015 she released a short film series called
Making Space
about teen dancers, and curated a book called
Babe
published by Random House.
Petra Collins: Coming of Age
, the artist's first monograph, was published by Phaidon in October 2017.
Please inquire for available works: info@nullevergoldprojects.com
Exhibitions with Ever Gold [Projects]:
Grinding
Mario Ayala, Petra Collins, Petra Cortright, Oscar Murillo, Kour Pour, Sterling Ruby, Tom Sachs, Kazuo Shiraga, and Takis
September 9 – October 21, 2017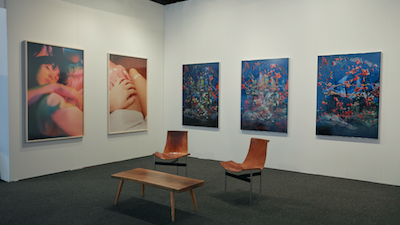 Petra Cortright and Petra Collins
ALAC, Los Angeles
January 25 – 29, 2017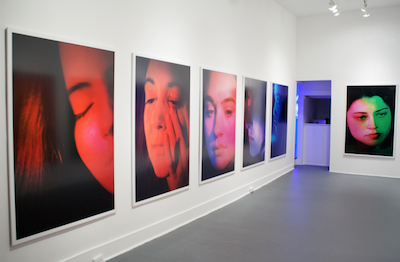 Petra Collins
24 Hour Psycho
April 2 – 30, 2016
Selected Press:
Dazed: Petra Collins on beauty and colonising Mars
Forbes: Picture Perfect: How 30 Under 30 Petra Collins Became An Entrepreneur Of The Arts
Refinery29: Petra Collins On Coming Of Age & The Female Gaze
Vanity Fair: How "It Girl" Petra Collins Went from Ballet to Behind the Camera
The New Yorker: The Female Gaze of Petra Collins
Artforum: Petra Collins
Artsy: 30 Emerging Artists To Watch This Spring

Petra Collins
Born 1992, Toronto, Canada
Lives and works in New York, NY
Selected Exhibitions:
2017
Art Los Angeles Contemporary (two person booth with Petra Cortright) with Ever Gold [Projects]
A Magazine, curated by Alessandro Michele (Gucci designer) at PMQ, Hong Kong
Pacifier, featured solo exhibition of CONTACT Photography Festival at CONTACT Gallery, Toronto
2016
Cause the Grass Don't Grow and The Sky Ain't Blue at Praz-Delavallade, Paris
The Female Gaze at BASE Milano, Milan
The Collective at Uncontaminated Art Festival, Oslo
24 Hour Psycho at Ever Gold [Projects], San Francisco
Sans Titre Vol.2: Curiosités at Sans Titre, Paris
2015
Comforter, curated by Petra Collins at SFAQ [Project] Space, San Francisco
fuckboifuneral, curated by Petra Collins and Madelyne Beckles at The Standard Miami, Art Basel Miami Beach
2014
Pussy Pat, curated by Petra Collins at Mud Guts, Brooklyn, NY
Discharge (solo exhibition) at Capricious 88, New York, NY
It's an Invasion at The National Arts Club, New York, NY
Literally Bye, curated by Petra Collins at The Standard Miami, Art Basel Miami Beach
2013
Gynolandscape, curated by Petra Collins at FOUR81, New York, NY
No Class, with Ansomnia Creative House at Art Basel Miami Beach