Tom Sachs
(b. 1966, New York, NY) is a sculptor, probably best known for his elaborate recreations of various Modern icons, all of them masterpieces of engineering and design of one kind or another. In an early show he made Knoll office furniture out of phone books and duct tape; later, he recreated Le Corbusier's 1952 Unité d'Habitation using only foamcore and a glue gun. Other projects have included his versions of various Cold War masterpieces, like the Apollo 11 Lunar Excursion Module, and the bridge of the battleship USS Enterprise. Recent exhibitions include
Space Program: Europa
at Yerba Buena Center for the Arts (San Francisco);
Nuggets
at Jeffrey Deitch (New York); Satan Ceramics at Ever Gold Gallery (San Francisco);
Tom Sachs: Boombox Retrospective 1999-2016
at the Brooklyn Museum;
Nuggets
at Lora Reynolds Gallery (Austin);
Tom Sachs: Boombox Retrospective 1999 – 2015
at The Contemporary Austin;
Chawan
at Salon 94 (New York);
Satan Ceramics
at Salon 94 Freemans; and
American Handmade Paintings
at Galerie Thaddaeus Ropac (Paris). Sachs lives and works in New York.
Please inquire for available works: info@nullevergoldprojects.com
Exhibitions with Ever Gold [Projects]:
Gold Standard: Ten Year Anniversary Exhibition
Zachary Armstrong, Korakrit Arunanondchai, Mario Ayala, Sadie Barnette, Chris Burden, Frédéric Bruly Bouabré, Serge Attukwei Clottey, Petra Cortright, Mark Flood, Kate Groobey, Brian Harte, Marc Horowitz, Paul Kos, Jasmine Little, Mieke Marple, Shaina McCoy, Barry McGee, MOCA (Museum of Conceptual Art), Oscar Murillo, Guy Overfelt, Cameron Platter, Kour Pour, Sterling Ruby, Ed Ruscha, Tom Sachs, Adam Parker Smith, Takis, and Christine Wang
January 12 – February 24, 2019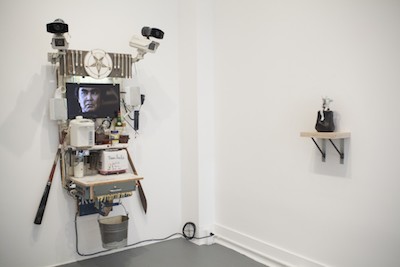 Tom Sachs, JJ Peet, Mary Frey, and Pat McCarthy
Satan Ceramics
January 23 – March 26, 2016


Tom Sachs is a sculptor, probably best known for his elaborate recreations of various Modern icons, all of them masterpieces of engineering and design of one kind or another. In an early show he made Knoll office furniture out of phone books and duct tape; later, he recreated Le Corbusier's 1952 Unité d'Habitation using only foamcore and a glue gun. Other projects have included his versions of various Cold War masterpieces, like the Apollo 11 Lunar Excursion Module, and the bridge of the battleship USS Enterprise. And because no engineering project is more complex and pervasive than the corporate ecosystem, he's done versions of those, too, including a McDonald's he built using plywood, glue, assorted kitchen appliances. He's also done Hello Kitty and her friends in materials ranging from foamcore to bronze.
A lot has been made of the conceptual underpinnings of these sculptures: how Sachs' sampling capitalist culture, remixing, dubbing and spitting it back out again, so that the results are transformed and transforming. Equally, if not more important, is his total embrace of "showing his work." All the steps that led up to the end result are always on display. On a practical level, this means that all seams, joints, screws or for that matter anything holding stuff together, like foamcore and plywood, are left exposed. Nothing is erased, sanded away, or rendered invisible. On a more philosophical level, this means that nothing Sachs makes is ever finished. Like any good engineering project, everything can always be stripped down, stripped out, redesigned and improved.
The reward for work is more work.
–Mark van de Walle



TOM SACHS
Born 1966, New York, NY
Lives and works in New York, NY
Selected Solo Exhibitions
1989
BA, Bennington College (Bennington, VT)
1987
Architectural Association (London, England)
Selected Solo Exhibitions
2018
The Pack at Vito Schnabel Gallery (St. Moritz, Switzerland)
Sandcrawler at Vito Schnabel Projects (New York, NY)
Chawan at Greenwich House Pottery (New York, NY)
2017
OBJECTS OF DEVOTION at Sperone Westwater (New York, NY)
TOM SACHS: TEA CEREMONY at Nasher Sculpture Center (Dallas, TX)
BRONZE at Baldwin Gallery (Aspen, CO)
2016
Heaven at Sougetsu Kaikan (Tokyo, Japan)
SPACE PROGRAM: EUROPA at Yerba Buena Center for the Arts (San Francisco, CA)
Tom Sachs: Tea Ceremony at The Noguchi Museum (New York, NY)
Tom Sachs: Boombox Retrospective, 1999-2016 at Brooklyn Musuem (New York, NY)
Nuggets at Jeffrey Deitch Projects (New York, NY)
2015
Nuggets at Lora Reynolds Gallery (Austin, TX)
Boombox Retrospective 1999–2015 at The Contemporary Austin (Austin, TX)
2014
Barbie Slave Ship at Galerie Thaddaeus Ropac (Salzburg, Austria)
2012
Space Program: Mars at Park Avenue Armory (New York, NY)
2011
WORK at Sperone Westwater (New York, NY)
2009
Cameras at Alrich Contemporary Art Museum (Ridgefield, CT)
Skateboards at Galerie Thaddaeus Ropac (Salzburg, Austria)
2008
Gold & Plywood at Galerie Thaddaeus Ropac (Paris, France)
Bronze Collection at Baldwin Gallery (Aspen, CO); Gallerie Thaddaeus Ropac (Paris, France)
Animals at Sperone Westwater (New York, NY)
2007
Space Program at Gagosian Gallery (Beverly Hills, CA)
Islandia at Galerie Thaddaeus Ropac (Paris, France)
Logjam at Des Moines Art Center (Des Moines, IA)
2006
Fondazione Prada (Milano, Italy)
Survey: America, Modernism, Fashion at Astrup Fearnley Museet (Oslo, Norway)
2005
Vanity at Galerie Thaddaeus Ropac (Salzburg, Austria)
McDonalds at Tomio Koyama Gallery (Tokyo, Japan)
2004
Dedicated to the Memory of Ben Plummer 1968-2004 at Baldwin Gallery (Aspen, CO)
Private Wealth Management at Kunstraum Deutsche Bank/ Galerie Thaddaeus Ropac (Salzburg, Austria)
Connecticut at Sperone Westwater (New York, NY)
2003
Disaster (Featuring Andy Warhol) at Galerie Thaddaeus Ropac (Paris, France)
Nutsy's at Deutsche Guggenheim (Berlin, Germany)
New Paintings at Galleria Cardi (Milano, Italy)
Holiday Spectacular at Printed Matter, Inc. (New York, NY)
2002
Nutsy's at The Bohen Foundation (New York, NY)
Le Corbusier B Sides at Mario Diacono Gallery (Boston, MA)
2001
Selector at Galleria Cardi & Co. (Milano, Italy); White. Galerie Thaddaeus Ropac (Paris, France)
Lamps, Bitch Lounge & Quarter Screws at A/D Gallery (New York, NY)
2000
American Bricolage at Sperone Westwater (New York, NY)
Test Module Five (Urinal) at Tomio Koyama Gallery (Tokyo, Japan)
Defender at Baldwin Gallery (Aspen, CO)
1999
Haute Bricolage at Mary Boone Gallery (New York, NY)
W.W.J.B.D.. and other Smash Hits (Neue Werke) at Galerie Thaddaeus Ropac (Salzburg, Austria)
Stairmaster at Mont Blanc Factory (Hamburg, Germany)
Burn Baby Burn at Mont Blanc Store (New York, NY)
SONY Outsider at SITE Santa Fe (Santa Fe, NM)
Creativity is the Enemy at Galerie Thaddaeus Ropac (Paris, France)
1998
Creativity is the Enemy at Thomas Healy Gallery (New York, NY)
1995
Cultural Prosthetic at Morris-Healy Gallery (New York, NY)
1994
Window display at Whitney Museum of American Art, Store Next Door (New York, NY)
1993
Watch Me Work at Allied Cultural Prosthetics (New York, NY)
Selected Group Exhibitions
2019
Gold Standard: Ten Year Anniversary Exhibition at Ever Gold [Projects] (San Francisco, CA)
2016
The Universe and Art at Mori Art Museum (Tokyo, Japan)
2014
One Way: Peter Marino at Bass Museum of Art (Miami, FL)
Art or Sound at Fondazione Prada, Ca'Corner della Regina (Venezia, Italy)
2012
The Floor Show at Gagosian Gallery (Beverly Hills, CA)
2011
Astrup Fearnley Collection at Bienal Pavilion (Sao Paulo, Brazil_
Fresh Kills at Anonymous Gallery (Mexico City, Mexico)
Space. About a Dream at Kunsthalle Wien (Vienna, Austria)
Happy Tech- Machine dal Volto Umano at Palazzo Re Enzo (Bologna, Italy)
2010
Meet Me Inside at Gagosian Gallery (Beverly Hills, CA)
Hunters and Gatherers at Gian Enzo Sperone (Sent, Switzerland)
Popular: Brands, Symbols, Icons 1960-2010 at Galerie Thomas Modern (Munich, Germany)
Untitled (no show) at Spencer Brownstone (New York, NY)
Divine Comedy Exhibition at Sotheby's (New York, NY)
Trunk Show at Colette (Paris, France)
Sisley Art Project: The Andy Warhol Museum at Palazzo Bovara (Milano, Italy)
12th International Architecture Exhibition at Biennale di Venezia (Venice, Italy)
ArtCRUSH at Aspen Art Museum (Aspen, CO)
Wings II at Deutsche Bank Kunstraum (Salzburg, Austria)
Robot Dreams at The Museum Tinguely (Basel, Switzerland)
Second Main at Musee d'Art Moderne de la Ville de Paris (Paris, France)
2009
Bike Rides: The Exhibition at Aldrich Contemporary Art Museum (Ridgefield, CT)
Stages at Galerie Emmanuel Perrotin (New York, NY)
Words are Diamonds at Laleh June Galerie (Basel, Switzerland)
SIGN/AGE: Part Three: Fight the Power at Armand Bartos Fine Art (New York, NY)
2007
Branded and on Display at Krannert Art Museum, University of Illinois Urbana-Champaign (Champaign, IL)
2006
This is America! Contemporary Art and American Photorealism at Centraal Museum (Utrecht, Netherlands)
New York, New York: Fifty Years of Art, Architecture, Film, Music, and Video at Grimaldi Forum (Monaco)
2005
Public Sculpture Invitational at Herron School of Art and Design (Indianapolis, IN)
Homestyle at Leo Castelli Gallery (New York, NY)
2004
DESIGN ≠ ART: Functional Objects from Donald Judd to Rachel Whiteread at Cooper Hewitt National Design Museum, New York; Aspen Art Museum (Aspen, CO)
Sculptural Sphere at Sammlung Goetz (Munich, Germany)
2003
Perpetual Bliss at Galerie Thaddaeus Ropac (Paris, France)
Materials, Metaphors, Narratives: Work by Six Contemporary Artists at Albright-Knox Art Gallery (Buffalo, NY)
2002
Shopping: Art and Consumer Culture at Tate Gallery, Liverpool, UK; Schirn Kunsthalle (Frankfurt, Germany)
Time Space Motion at Galerie Thaddaeus Ropac (Salzburg, Austria)
Mirroring Evil at Jewish Museum (New York, NY)
Self-Medicated at Michael Kohn Gallery (Los Angeles, CA)
2001
Camera Works at Marianne Boesky Gallery (New York, NY)
Art at the Edge of the Law at Aldrich Museum of Contemporary Art (Ridgefield, CT)
2000
My Reality at Des Moines Art Center, IA
Rosenwald-Wolf Gallery University of the Arts (Philadelphia, PA)
Fabula: Consumer Media and Contemporary Art at Cranbrook Art Museum (Bloomfield Hills, MI)
1999
Making Change at The Jewish Museum (San Francisco, CA)
Dysfunctional at Sculpture Center Galleries (Detroit, MI)
Thinking Aloud at Kettle's Yard, Cambridge; Cornerhouse, Manchester; Camden Arts Centre London, UK
Food for Thought at New Jersey Center for the Visual Arts, Summit
Material Perception at Bank of America Plaza (Charlotte, NC)
1997
Thirty-Third Annual Exhibition of art on Paper at Weatherspoon Art Gallery, University of North Carolina (Greensboro, NC)
Icons: Modern Design and the Haunting Quality of Everyday Objects at San Francisco Museum of Modern Art (San Francisco, CA)
1996
American Dreamin at Linda Kirkland Gallery (New York, NY)
On/In/Through at Morris-Healy Gallery (New York, NY)
1995
Shred Sled Symposium at Thread Waxing Space (New York, NY)
Occupato at Bennett Roberts Fine Art (Los Angeles, CA)
1994
Inaugural Exhibition at Paul Morris Gallery (New York, NY)
1993
Shopping Cart Furniture window with Dries van Noten at Barney's (New York, NY)
1992
Minimal Tricks at Alleged Gallery (New York, NY)
10 Steps at Muranishi Lederman (New York, NY)
1991
Denied Access Parking Lot at L.A. Eats (Los Angeles, CA)
Public Collections
Albright Knox Art Gallery (Buffalo, New York)
The Art Institute of Chicago (Chicago, IL)
Astrup Fearnley Museet for Moderne Kunst (Oslo, Norway)
The Berezdivin Collection (San Juan, Puerto Rico)
Berkeley Art Museum and Pacific Film Archive (Berkeley, CA)
Bibliothèque Nationale de France (Paris, France)
The Cartin Collection, (Hartford, CT and New York, NY)
Centre Georges Pompidou (Paris, France)
Citigroup Art Collection (New York, NY)
The Contemporary Austin (Austin, TX)
Crystal Bridges Museum of American Art (Bentonville, AR)
Des Moines Art Center (Des Moines, Iowa)
Ellipse Foundation, Contemporary Art Collection Arte Centre (Cascais, Portugal)
Fondazione Prada (Milan, Italy)
The Getty (Los Angeles, CA)
Hammer Museum (Los Angeles, CA)
The Jewish Museum (New York, NY)
The Jumex Collection (Mexico City)
Kunstmuseum Liechtenstein Collection (Liechtenstein)
Lever House Collection (New York, NY)
Los Angeles County Museum of Art (Los Angeles, CA)
Maramotti Collection (Reggio Emilia, Italy)
The Metropolitan Museum of Art (New York, NY)
Montblanc Art Collection (Hamburg, Germany)
The Museum of Modern Art (New York, NY)
NASA Permanent Collection (Washington, D.C.)
Schauwerk Sindelfingen (Sindelfingen, Germany)
The Sammlung Essl Collection (Vienna, Austria)
The Sammlung Goetz Collection (Munich, Germany)
The Sammlung Olbricht Collection (Essen, Germany and Berlin, Germany)
The San Francisco Museum of Modern Art (San Francisco, CA)
Solomon R. Guggenheim Museum (New York, NY)
The Smithsonian Institute (Washington, D.C.)
University of North Carolina, Weatherspoon Art Gallery (Greensboro, NC)
Vanhaerents Collection (Brussels, Belgium)
Whitney Museum of American Art (New York, NY)
Yale University Art Gallery (New Haven, CT)